Tweet
Follow @JenniferMansonX
Amongst the many wild theories I am known to expound at length any time someone or something sets me off, is that everything is easy, and in many cases, things are far, far, far easier than they seem.
People seem to like this idea. They take enough interest to stay with me as I fizz with enthusiasm, and tell some of my stories of when this has been the case for me.
The vision of Project Flow Days
We did our first Project Flow Day on Saturday, a glorious day, filled with sparks and flashes of inspiration, of vision, and of seeing how those projects could be easy, too. For me, being in that beautiful room, with those beautiful people, being part of that flowering of life and purpose, was in itself a vision come true – I'd seen it, experienced it, in moments of daydream – to the point that I surprised myself when I remembered I had not actually lived such a day before.
Relative speed
I was also surprised when someone pointed out to me how quickly the day had come to fruition. "You were only talking about it three weeks ago, as an idea, and now here you are!" My head tilted to the side as I considered this. In my world three weeks is a long time, but their surprise that something could happen so quickly triggered curiosity in me. How had it happened? What made it so easy?
Well, it just was easy. We set a date, my co-host Dave Kibby called someone he knew who had a stately home library for hire, and we started inviting people.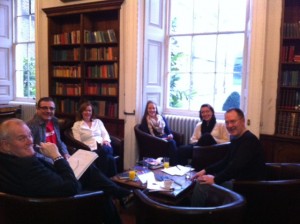 What is it for you?
I already knew the idea captured people's attention, because for the few weeks before, I'd been asking everyone I met: "What is it for you? What is that you know in your heart you need to be doing?" and seen their faces go pale, or light up, or their mouths drop open. I knew people knew what they wanted and needed to do, I was pretty sure the offer of space to do it would be attractive and I knew, deep down, it was a good thing to do.
And as soon as we started talking about the day online, people started taking notice, sharing it, talking about it, and then they started booking to come.
Vision unfolding
From there, what? My vision was of a day of space, for people to work on their projects away from their everyday lives. The plan of how the day would unfold came to me complete, easy. It took me five minutes to write it down. I had some thoughts of what to say at the start, about how life is easy for me, and had a chat to my friend Stuart, who knows about these things, about how to introduce Dave so that his genius and vision would flow easily from there. All easy.
Endless examples
I was going to talk here about other examples, of similar moments of ease, but I won't, for now. There's just one more point I'd like to make: for me it's passion, excitement and clarity of vision that fuels my choices of what to do. It's that light in the eyes of another that tells me "Yes, this is it, this is the next thing, this is something that will make a difference." When I feel that, I don't even need to think "how will I do this?" – it simply unfolds.
With thanks to Lucy Whittington for her wisdom on "doing your marketing Thing".